New Holland Spirits Launches New Canned Cocktail to Existing Lineup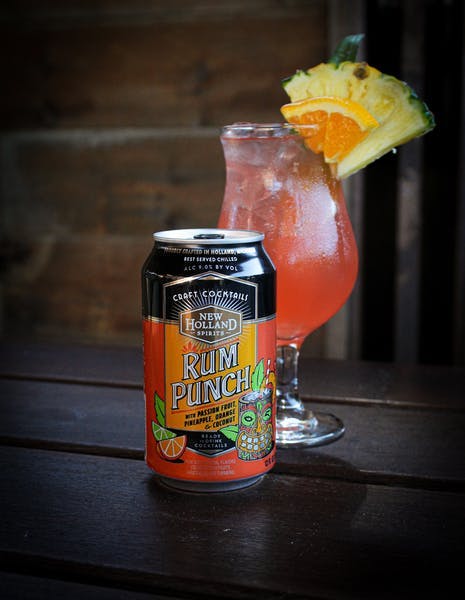 HOLLAND, Mich., (June 10, 2019) – As summer 2019 kicks off, New Holland Spirits reveals the launch of the fourth addition to their ready to drink cocktail lineup: Rum Punch. This refreshing summer canned cocktail is made using Freshwater Rum, an existing New Holland Spirit brand, combined with natural passion fruit, pineapple, orange and coconut flavors.
The newly released Rum Punch will be available year-round at grocers and select independent retailers throughout Michigan, Indiana, Ohio, Kentucky, Wisconsin, Illinois and Connecticut at a recommended retail price of $9.99 per 4-pack.
"Rum Punch is a great add-on to our current canned cocktail offerings. We are happy to offer this tropical and easy-drinking option to complement the upcoming summer months," says Brad Kamphuis, Director of Distillery Operations. "We want to continue to provide our customers with new and innovative options in terms of our canned cocktail line, and Rum Punch is an excellent addition to the lineup"
This product, along with New Holland's existing selection of 9% ABV canned cocktails (listed below) are made with natural fruit flavors and real cane sugar. All of which are available in 4-pack, 12oz cans.
New Holland Spirits Existing Canned Cocktail Offerings:
Holland Mule
Blueberry Gin Lemonade
Bourbon and Cola
For more information on this new release and existing New Holland Spirits brands please visit www.newhollandspirits.com or connect online by following @NewHollandSpirits on Facebook and Instagram.