January Releases - Preorder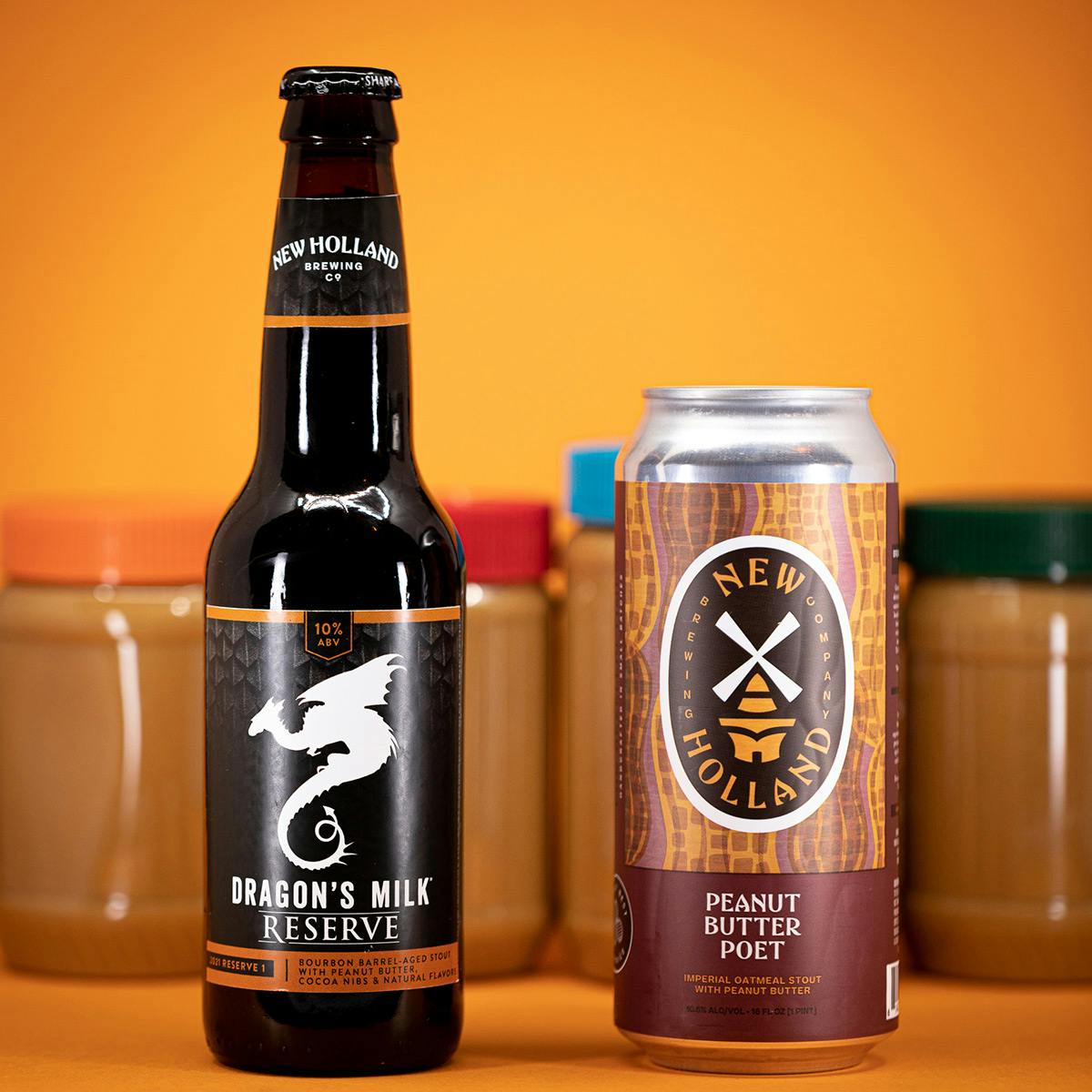 We're kicking off the new year with our first preorder of 2021! Be the first to get your hands on our latest releases, including:
Dragon's Milk Reserve: Bourbon Barrel-Aged Stout with Peanut Butter & Cocoa Nibs

The first Dragon's Milk Reserve release of 2021 is a rich and nutty take on our legendary bourbon barrel-aged stout. Waves of smooth, velvety flavors wash over your taste buds to conjure the familiar taste of peanut butter cups. Aged in select bourbon barrels for three months and finished with massive amounts of real peanut butter and cocoa nibs, our latest Reserve is an indulgent experience that is sure to satisfy your sweet tooth. — $17.99/4pk (Limit 12 4-packs)

Peanut Butter Poet

Combining two classics for one delectable treat, we took our classic oatmeal stout, The Poet, and upped the ABV while loading it with real Reese's™ peanut butter. The result is a rich, velvety, full-bodied brew with a nutty sweetness to amplify the stout you know and love. Quoth the Raven, "More peanut butter please!" — $15.99/4pk (No limit)

Blue Sunday (2021)

Released annually to celebrate progress and challenges overcome, Blue Sunday is foeder-aged for a full year with cultures dating back to its original release more than a decade ago. Part tart-past, part sweeter-present, Blue Sunday is a toast to our continuous pursuit of a future bettered by history. — $13.99/500mL (No limit)
---
How to Order
Online preorders will begin on Saturday, January 16 and last from 11am–4pm (or until all beer is sold out). Preorders can only be placed online. The online store can be reached here: biermi.com/store/new-holland. Full payment will be required during the checkout. As a reminder, beers added to your cart are not officially yours until your order has been processed and you receive a confirmation email.
Fairbanks Society Early Access
Our Fairbanks Society members will receive early access to the online store via email on Saturday, January 16 at approximately 10:25am. Qualifying Fairbanks Society membership must be purchased by Wednesday, January 13 at 11:59pm.
Pick Up
During the preorder process, you will need to select a pickup location (NHBC Production Campus in Holland or The Knickerbocker in Grand Rapids). Orders will be available for pick up on Saturday, January 30 from 10am–5pm only. Proxies are allowed, but every pickup must be accompanied by a copy of the order confirmation. Every person picking up orders must present a valid ID showing proof of age (21+).
Frequently Asked Questions
Q: Can I go to the pubs on January 16 to buy these beers?
A: Nope! This is an online preorder only. Place your order, and you will be able to pick up your beer on Saturday, January 30 at your selected pickup location.
Q: Do you ship beer?
A: No. We are legally not allowed to ship beer directly to consumers. We do, however, allow for proxy pickup, so it's time to reach out to those long lost friends in Michigan!
Q: How can I change my pick up date/location/proxy after ordering?
A: Saturday, January 30 is the only day available for pick-up. However, for proxy changes, please email [email protected].
Q: I can't pick up my beer now - can I get a refund?
A: All sales are final. Please reach out to us and we'll do our best to make sure you get your order.
Q: I had beer in my cart, but when I checked out, it was gone! What happened?
A: Your order is not official until the payment has been processed and you have received a confirmation email. It is best to move quickly to ensure you get your desired brews!